Our big question for Summer 2 is...How do I make sense of the world?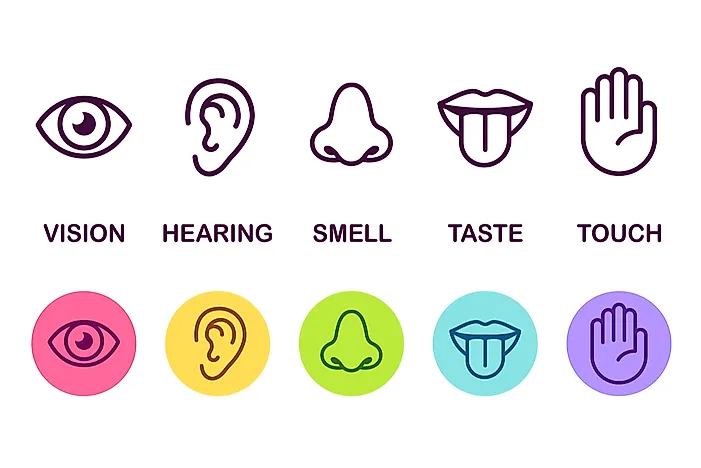 During this topic the children will be learning about their five senses. We will explore different senses each week and involve ourselves in lots of exciting activities to explore how important our senses are. We will be meeting guide dogs and guiding each other through mazes whilst wearing a blind fold. We will be carrying out milk shake taste tests and guessing different smells. We will have scented playdough, spice paints and making different textures on a texture hand.
In maths we are working on applying all the number knowledge we have learnt throughout the year to solve lots of problems that involve addition, subtraction, doubling and halving. We will be learning how to record addition and subtractions and work on using number lines in preparation for year one.
In Literacy our key text is Brown Bear, Brown Bear What do you See by Eric Carle. We will be using this book to introduce our learning on sight. After we have read the story we will be building up to writing our own versions of the story. We will be practising writing in full sentences and reading longer sentences throughout summer 2. 
Our big question during summer 1 is ...
Was it once upon a mixed up time?
During this topic we will be diving into lots of different fairy tales such as Hansel and Gretel, The Ugly Duckling, The Enormous Turnip and even Shrek! We are hoping that the children will hear some new stories from this topic and they are especially excited to find out about all the different fairy tale characters in Shrek. Each week we will focus on a new story and join in with lots of exciting activities to learn about the characters and stories.
In literacy we will be using the stories to write at a longer length, encouraging the children to retell the stories in as much detail as possible. We will be unpicking the stories we read thinking about the choices the characters make and pretending to be them during various role play and freeze frame activities. We are also teaching the children to start writing using cursive handwriting as this will support them when they enter year one. 
In maths we are working towards our Early Learning Goal where the children need to be able to double, halve and share with practical objects. We will be building sweet houses, doubling the amount of sweets and sharing food at Shrek's swamp picnic.
Our big question during spring 2 is twinkle twinkle little star, how I wonder what you are?
During this topic we will be exploring what lies beyond planet Earth. We will learn lots about stars, constellations and the other planets! We will begin our topic with a stunning start of turning ourselves into astronauts and designing our new space station role play. We will learn all about the astronaut Tim Peake and his journeys around space. We will learn about the phases of the moon and what a solar eclipse is. We are hoping that the children will enjoy this new topic and learn so much more about the universe that we live in!
In Literacy we will be using the book How to Catch a Star by Oliver Jeffers as our key text. We will be thinking about how we could catch a star, whilst wondering how many stars there are in space. We will use this book to think about if we can really catch stars and what stars are made from. The children will be continuing to develop their reading and writing skills across our topic as we read and write all about space. We are expecting the children to be gaining confidence reading and writing simple captions e.g. on a ship, big dog, a red bus.
In Mathematics we will be exploring 2d and 3d shape. We will be using lots of vocabulary to describe shapes such as straight, curved, flat, sides and faces as well as trying to name the shapes. We will also be practising counting backwards as we pretend to blast off into space and link this is with developing our understanding of simple subtraction. 
Our big question during Spring 1 is how can we help Cinderella have a ball? 
During this topic we will be engaging in lots of magical learning! We will be reading the story of Cinderella as well as the story of Prince Cinders. We will learn a lot about the different characters in the book and talk about feelings and emotions. We will be thinking about different materials that would make a sensible dancing shoe for Cinderella. We will be making carriages and testing them out on a bumpy road. We will even be learning how to do ballroom dancing and prepare a perfect ball! Reception, I hope you have your dancing shoes ready! 
In Literacy we will be busy trying to apply all the phonics sounds we have learnt to begin to write simple captions. We will be writing ball invitations, lost glass slipper posters and even drawing designs for a modern castle for Prince Charming. We will begin guided reading sessions in class and start reading simple word and caption books. 
In maths we will be busy in our new shoe shop role play, measuring our feet and using language related to money. As we think about Cinderella needing to leave the ball for midnight we will be using clocks to develop our language of time . We will continue to practise our number recognition, formation and counting skills. 
Our big question during the Autumn term is 'is everybody's home the same?'
This term we are learning all about houses and homes. We will be learning about the types of homes that we live in as well as the homes that animals may have. We will be looking at who lives in a castle and reading Jack and the Beanstalk. We will also be learning about The Three Little Pigs and how we can help them build a home that keeps them safe from the Big Bad Wolf! We will even be thinking about what it would be like to live in a lighthouse! We will look at houses all over the world and how they are similar and different to the houses we see in our country.
In Literacy we will be focusing on lots of stories such as Sharing a Shell, Jack and the Beanstalk and The Three Little Pigs. We will be answering lots of questions about the stories and retelling them through play. We will be practising our name writing and start learning a letter sound a day in our phonics lessons. We will be learning to write letter sounds and practising how to correctly hold a pencil.
In Maths we will be singing lots of number songs and learning the actions. We will be developing our counting accuracy and matching numbers to ten to amounts. We will also be learning to recognise a range of 2D shapes.